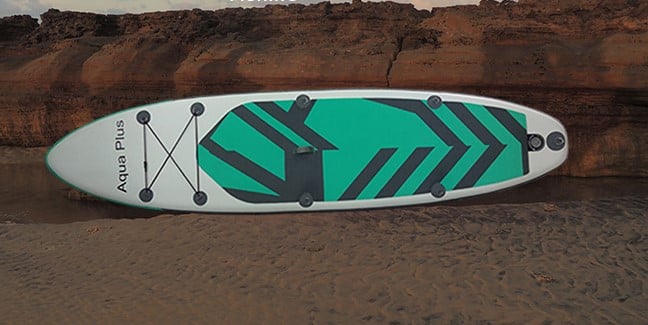 Aqua Plus iSUP: First Impressions Overview
The Aqua Plus inflatable paddle board is a no-frills SUP made for paddlers on a tight budget. With a basic construction and shape, this paddle board can get you out on the water, but isn't as functional or reliable as some other budget-friendly iSUPs we've tested.
— Aqua Plus iSUP Spec Ratings and Review —
Aqua Plus iSUP
Construction & Durability

Features and Versatility

Stability

Speed

Maneuverability

Tracking
Overall Score
The Aqua Plus iSUP is a simple inflatable paddle board that can get you out on the water.
Pros
Lightweight construction is easy to carry
Low cost for a complete kit
Simple setup and teardown
Kayak seat compatible
Medium size cargo area on front of board
Diamond groove deck pad for extra traction
Three different sizes to match the paddler
Cons
Lower cost materials and constructions
Low quality accessory kit
Limited warranty and customer service options
Construction and Durability
Aqua Plus doesn't list a lot of details for their construction, but with its weight and price we can compare it to many other low-cost iSUP constructions.
The largest Aqua Plus iSUP has a listed weight of just over 20 lbs and the brand's description alludes to a single-layer PVC shell with a double-layer rail. This tracks along with all of the other iSUP constructions at this price point.
Inside the board there is a standard, knitted, drop stitch core to give the board a flat shape and some rigidity. The outer layer of the board is a single layer of mechanically-bonded PVC material. This makes the fabric air tight and more rigid. The deck and hull layers of the board are then connected with a band of PVC glued around the edge of the board. This completes the air chamber of the board. A second PVC rail layer is then glued over top of the first for additional rigidity and protection.
Single layer constructions have come a long way over the years and where they used to be universally known for less-rigid and less-durable builds, brands that opt to spend more money on higher quality materials and construction methods can completely sidestep these pitfalls. However, those boards tend to cost 3-4x as much as the Aqua Plus iSUP and advertise their specific materials and construction, so we can safely assume that these advanced options are not found in the Aqua Plus iSUP. This is further backed by the Aqua Plus's short 1-year warranty.
With base-level materials and constructions I don't expect the Aqua Plus to hold up well to significant levels of use, and is not going to perform well for heavier paddlers (over 200 lbs) even with the larger size option.
Specifications
Dimensions
Length
10' 6"
Width
33"
Thickness
6"
Weight
Max Capacity
330 pounds
Board Weight
20 pounds
Kit Weight

30 pounds
Buying Info
List Price
Warranty
1 years
Returns period
30 days
Features, Accessories and Versatility
The Aqua Plus iSUP has a limited set of features, but it is enough to use the board for casual, short paddle sessions. It is available in three different sizes, though.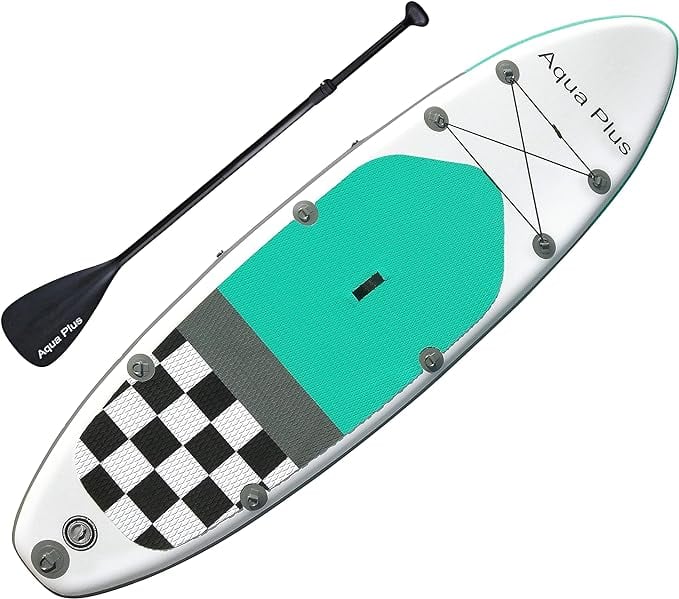 There is a four-point bungee cargo area at the front of the board that's large enough for medium size dry bags, shoes, water bottle, or other essential items.
The deck pad has a diamond groove texture for grip and extends most of the way to the tail. It is kept quite wide at the tail as well, rather than tapering to a small point like several other iSUPs of this caliber. There are four more D-rings on the midsection of the board that are compatible with a kayak seat, and a leash D-ring at the very tail of the board.
The Aqua Plus iSUP has a single fin box and comes with a standard 9" surf-style slide-in fin. It does not have small, fixed, side fins which is a breath of fresh air in this section of the market. These side fins are purely aesthetic and do not offer any tracking or stability performance improvement. In addition to the board and fin, the Aqua Plus iSUP also comes with a three piece aluminum paddle, coiled leash, single chamber pump, shoulder carrying strap, phone case, repair kit, and basic backpack-style carrying bag.
The Aqua Plus iSUP is available in three different sizes, all sharing the same basic shape and construction. I do appreciate that Aqua Plus clearly labels the different size and color options as its competitors (like ROC and Serene Life) do not.
The three sizes are:
10'6" x 33" x 6", 330 lbs capacity (Chess and Graffiti Gray colors)
11'0" x 33" x 6", 350 lbs capacity (Aqua Camo, Aqua Gray, Carbon White, Graffiti White, Graffiti Yellow colors)
10'0" x 32" x 6", 310 lbs capacity ( Graffiti Blue, Pink Gray colors)
Paddle
The Aqua Plus comes with a three piece aluminum and nylon paddle.
Aluminum paddles are low cost, but also heavy and prone to permanent bending. Setting something heavy on your paddle, getting it caught on something hard, or even just paddling hard with it can cause the paddle to bend. It is very difficult to bend the paddle back straight, and each time the aluminum shaft is bent it does become weaker and easier for it to happen again.
For casual paddling aluminum paddles can work well, but their weight makes them less than ideal for longer sessions. The nylon blade is impact resistant and more durable than purely composite paddle blades.
Shape and Performance
The Aqua Plus iSUP comes in three different sizes, but all share the same basic shape. The board does have a nice stable shape with parallel sides, a wide mostly-round nose, and a medium width square tail. This means that there are no distinct tipping points where the board's stability suddenly changes, and it has quite a bit of volume on the water for good stability to begin with. However the lower quality construction may make the board bend and flex more, especially for heavier paddlers, which can reduce how stable it feels.
With its single fin placed farther back on the board, the Aqua Plus iSUP will have better tracking performance than boards like the Serene Life iSUP while not greatly diminishing its maneuverability.
Though better tracking can help improve speed over longer distances, the board's overall shape, size, and rigidity will limit it to casual cruising speeds.
Warranty and Customer Support
Aqua Plus only offers a 1 year warranty for their iSUPs and has a 30-day return policy when purchased through Amazon.com. The warranty is specifically stated to be for the materials. Depending on how you read that it could indicate that they won't warranty boards that suffer from construction related issues. With no direct contact available through a website (Aqua Plus exists solely as a product on Amazon) you'll need to go through Amazon's customer service for any returns or other order issues.
Overall Impressions/Review Summary
The Aqua Plus iSUP is a basic inflatable paddle board that's available in three different sizes. This does allow you to choose the best size board for you, but with its lower-quality materials and constructions even the larger size is not recommended for heavier paddlers. The kit itself includes a few nice additions not normally provided (shoulder strap and phone case), however the bag does leave a little to be desired. Overall the Aqua Plus is OK and can get you out on the water, but we definitely recommend considering a few other budget-friendly iSUPs, like the Nautical 10'6", for their additional features, better constructions, and warranties provided by a brand that is specifically involved in paddle sports.
Aqua Plus iSUP FAQ
Is the Aqua Plus iSUP good for beginners?
The Aqua Plus iSUP's 33" width and wide shape makes it more stable for beginners than smaller boards. However, it is limited in both features and intermediate-level performance compared to other entry-level iSUPs like the Nautical 10'6".
Is the Aqua Plus iSUP good for fishing?
With little cargo space and no real mounting options for accessories, the Aqua Plus iSUP is not a top choice for SUP fishing.
Can I paddle with a child or pet on the Aqua Plus iSUP?
You can paddle with a small child or pet on the Aqua Plus iSUP. The 330-350 lbs weight limit and 33" width of the two larger sizes should provide plenty of volume and space, however larger passengers and pets may make the board less stable.
Can I use the Aqua Plus iSUP with a kayak seat?
Yes, there are four D-rings near the middle of the board to use with a kayak seat.