The Seamax SUP20D is an impressive new electric paddle board pump for 2018 that includes some great features and a rock-solid 2-year warranty. As much as we love inflatable SUPs, we have to admit that it's never fun to pump them up manually — an electric SUP pump is an affordable accessory that will greatly increase the enjoyment that you get from your iSUP.
Best known for their high-quality range of inflatable boats, Seamax is a Canadian company that also offers a nice range of accessories.
In this review of their new double stage SUP20D iSUP pump, we'll take a look at the features, construction, included accessories, performance, level of noise it produces, and more.
Pump Features & Included Accessories
Packed with great features, the Seamax SUP20D is a real pleasure to use. This intelligent 12V double stage pump features a compact, easy to carry design with a convenient top handle. Located on the top handle is a digital LCD display, PSI/BAR mode button, increase/decrease buttons, and a power button.
On the front of the pump are ports for both inflation and deflation, along with a screw on cap to cover the "Deflate" port whenever it's not in use.
We absolutely love the included inflation hose — it's the nicest of any inflatable paddle board pump we've reviewed to date. The hose is very well designed and screws on securely to both the pump and iSUP inflation valves. This pump is compatible with the popular Halkey Roberts-style inflation valve that is most commonly seen on inflatable paddle boards these days.
This 12V pump quickly and conveniently connects to your vehicle's cigarette lighter with the included adapter plug. This is our preferred design as it's so nice to simply plug in and pump without having to pop the vehicle hood and attach battery cables to the terminals.
On the bottom of the pump are four rubber feet which provide some shock absorption and also keep the pump from sliding around.
Last but not least, the Seamax SUP20D pump also includes a handy user manual, two additional rubber washers with varying thicknesses, and a spare fuse.
How to Use the Seamax SUP20D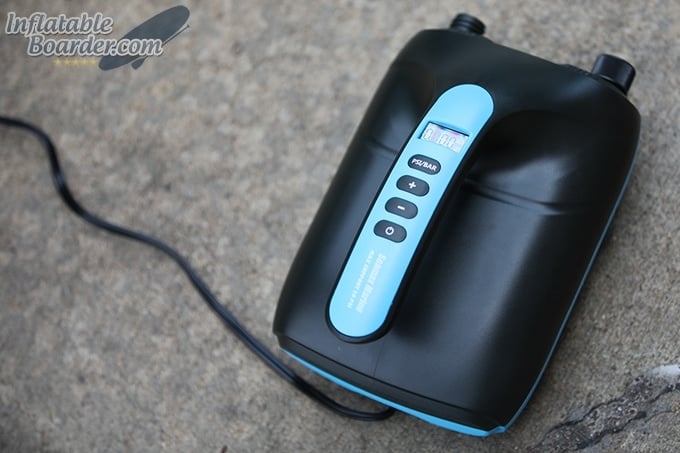 As far as ease of operation goes, you honestly won't find a simpler electric paddle board pump to operate. After plugging the pump in to your vehicle's cigarette lighter and screwing the hose on to both the pump and your board's inflation valve, simply choose the mode (PSI/BAR), set the desired PSI (it will inflate boards all the way to 20 PSI), and press the power button.
The dual-stage design of this pump will begin inflating your board, rapidly adding air to it until significant resistance occurs. At that point, the pump automatically switches over to the more powerful mode which will add the remaining amount of air to your SUP.
We love the precise LCD display on this pump, and it gives you a convenient reading of the current PSI during the inflation process.
Once the desired pressure has been reached, the Seamax SUP20D automatically shuts off. There is absolutely no risk of over inflating your paddle board — a dangerous problem with traditional air compressors which can result in serious injury and a damaged board.
The deflation feature is also really easy to use, but it does require you to pay a bit more attention to the pump's progress as there is no auto-shutoff feature for the deflation mode.
To deflate a board, simply unscrew and remove the cap from the deflation port, attach the hose, and press the power button. In just a few minutes, the Seamax SUP20D will fully deflate your iSUP, leaving you with a board that is super compact and easy to roll up.
Inflation Time
We're extremely impressed with the inflation speed of the Seamax SUP20D — it's the fastest pump we've reviewed to date. The SUP20D inflated a larger touring board (12'6″ x 30″ x 5.9″) to 15 PSI in just 9 minutes, 25 seconds. In another timed test, the pump inflated one an all-around board (10'4″ x 34″ x 5.9″) to 15 PSI in only 8 minutes, 14 seconds.
Loudness
While no electric paddle board pump will be particularly quiet, the noise that this pump produces is definitely bearable. During our decibel output tests, the pump's first stage produced an average reading of 84 dB on our meter with the louder second stage coming in at 95 dB.
Pump Warranty
Electric paddle board pumps typically include a 1 year warranty. We really love the fact that Seamax stands behind their new pump with an impressive 2-year warranty, giving added peace of mind. Despite the fact that this powerful pump appears to be really well made and we expect it to hold up well, it's nice to know that you're covered in the event that it stops working.
Final Thoughts
Overall, Seamax's new SUP20D pump is currently one of the best options if you're in the market for an efficient, easy to use electric paddle board pump. This pump is lightweight and extremely portable, and it's performed flawlessly for us to date — inflating a variety of board makes and sizes.
Lastly, we really love the digital display on this pump and the extended 2-year warranty is a nice added bonus — highly recommended.