In this buyer's guide, we'll list our top picks for 2017's best paddle board for kids. As the sport of paddleboarding continues to grow, it's exciting to see so many youth getting involved, and there are some really nice kids SUP boards available.
When it comes to buying a youth SUP board, it should come as no surprise that we recommend iSUPs. Inflatable paddle boards are much more convenient and far easier to transport than hard boards, and they're more forgiving if a child falls on the board or gets bumped by it. As parents, the last thing we want is an injured child and inflatables are a safer alternative to traditional hard stand up paddle boards.
In this buyer's guide, we're including kids paddle boards in a wide variety of price points so you'll be able to find the best paddle board for your child, regardless of budget. Also, all of the boards we've listed are durable, lightweight, and come with a full warranty.
So without further ado, let's get to it…
Best Kids Paddle Boards for 2017
---
XTERRA Milkshake 8′
The Camo Emoji XTERRA Milkshake 8′ is one of the better youth SUP boards for sale this year. Measuring 8'x30″x4″, the Milkshake 8′ inflatable SUP comes with a nice bundle of accessories which includes an adjustable paddle, roller backpack, leash, pump, and repair kit. At the nose of the board is a D-ring for towing, a GoPro mount, and a bungee cord storage area. At the board's tail is another D-ring for attaching the included SUP leash. Overall, this is an affordable, high-quality kids paddle board that comes with everything your child needs to get out on the water.
---
C4 Waterman Disney Moana
Measuring 7'x26″x4″, the C4 Waterman Disney Moana is a great choice for children 5 years old and up. This board has a really nice Disney-themed design that kids love, and it includes everything needed to start paddling.
The C4 Waterman Disney Moana board comes with an adjustable paddle, pump, and backpack. It has a fixed tri fin configuration which means there's no center skeg to lose, and the durable drop stitch construction will hold up to serious use.
---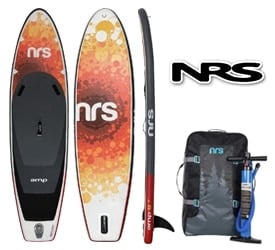 NRS Youth Amp
One of the larger youth stand up paddle boards in our list, the NRS Youth Amp is a higher-priced option which offers great paddling performance for young paddlers. This board features extra grab handles for added convenience, and comes with a total of six D-rings for tying down gear, attaching a SUP leash, and towing.
Unfortunately, the NRS Youth Amp only comes with a SUP backpack, pump, and repair kit — there's no paddle included.
---
Aqua Marina Vibrant
The budget-priced Aqua Marina Vibrant is a fun children's paddle board that features a single removable fin and comes with a backpack, pump, and repair kit. Like the NRS Youth Amp, the Vibrant does not include a paddle so you'll need to pick one up separately.
Measuring 8'7″ x 26″ x 4″ and weighing in at 15 pounds, this board can support a maximum weight of 154 pounds and comes with a 1 year warranty on manufacturer defects.
---
Ten Toes Nano
The Ten Toes Nano is a great-looking inflatable paddle board for kids. The retro-inspired design comes in three colors (black/red, green, and pink), and the board includes an adjustable aluminum SUP paddle, pump, and iSUP repair kit. At the nose is a bungee storage area for stashing a bag, flip flops, or other gear, and there are three removable fins on the flip side.
Measuring 8'x30″x4″, the Nano is a stable board that can support a maximum of 140 pounds.
---
Lucky Bums 7′
The Lucky Bums 7′ inflatable paddle board is a mid-priced model that is made out of triple layered 500-denier PVC reinforced material. This board measures 7'x28″x4″ and it can safely support up to 120 pounds of weight. There are plenty of D-rings (8) for towing and securing accessories and other gear, and this board comes with a 3-piece adjustable paddle, carrying backpack, repair kit, and pump.
While this 7′ board is good for small children, Lucky Bums also has a 9′ version for bigger kiddos.
---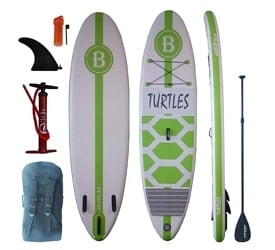 Bright Blue 9'6″
The Bright Blue 9'6″ kids paddle board features a fun turtle-themed design and comes with a great bundle of SUP accessories. This youth iSUP includes a 3-piece adjustable paddle, backpack, repair kit, and pump. On the flip side is a 2+1 fin setup with a removable large center skeg.
This is a very stable board that measures 9'6″x33″x6″ and it's capable of supporting a max weight of 280 pounds.
---
Bright Blue 8'3″
Bright Blue's smaller 8'3″ kids SUP is 28″ wide, 4″ thick, and can support a maximum weight of 180 pounds. The deck of this board is covered by an oversized EVA foam traction pad, and there is a D-ring bungee storage area at the nose, another D-ring on the bottom of the board at the nose, and a D-ring at the board's tail for attaching a leash.
The 8'3″ comes with a removable single fin setup and the bundle of SUP accessories includes a paddle, pump, and repair kit.
---
Shark SUPs 9'2″ SMURF
The colorful Shark SUPs 9'2″ SMURF is a nice-looking child's stand up paddle board that includes a very nice bundle of accessories and is backed by a 2-year warranty. This board comes with a backpack, paddle, pump, SUP leash, and repair kit which means there's nothing else you need to buy.
Capable of being pumped up to 25 psi, this is a durable and rigid board that can take a beating. It has a single removable fin, six D-rings, and a bungee cord storage area at the board's nose.
---
Airhead Popsicle 730
Last but not least, the little AIRHEAD Popsicle 730 is a stable youth paddle board that can support kids weighing up to 120 pounds.
Measuring 7'x30″x6″, the Popsicle features a 4 fixed thruster fin configuration, and it comes with a backpack, pump, and inflatable SUP repair kit. The deck of the board is covered by a diamond pattern EVA foam traction pad, and we like the fact that it has a nice kick tail.